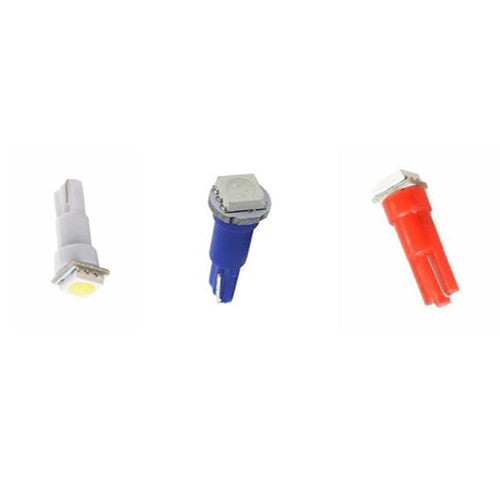 This listing is for 10 bulbs 

Please choose from white, blue and red 

These T5 bulbs are commonly used for dashboard lights on many of Japanese, Korean and Chinese vehicles. 

Comparing to the stock standard lights, these are: 
* White, to match with other white lights 
* Colorful, other colors are also available 
* Brighter beam, more chance to be seen day and night 
* Energy saving, low current bulb so easy on the circuit and battery 
* Longer lifetime, relatively longer useful life 

[Voltage]12v DC 
[Color]White, Blue and Red 
[Fitting] T5 wedge, 18mm long 
[LED]1x 5050 Surface Mounting Devices 

Why LED? 
ULTRA BRIGHT 
ENERGY SAVING 
QUICK REACTION 
LONGER LIFETIME 
COLORFUL CHOICES 

Installation notice: 
If the bulbs are not working please turn around and insert back due to LED polarity which differs to halogen bulbs.