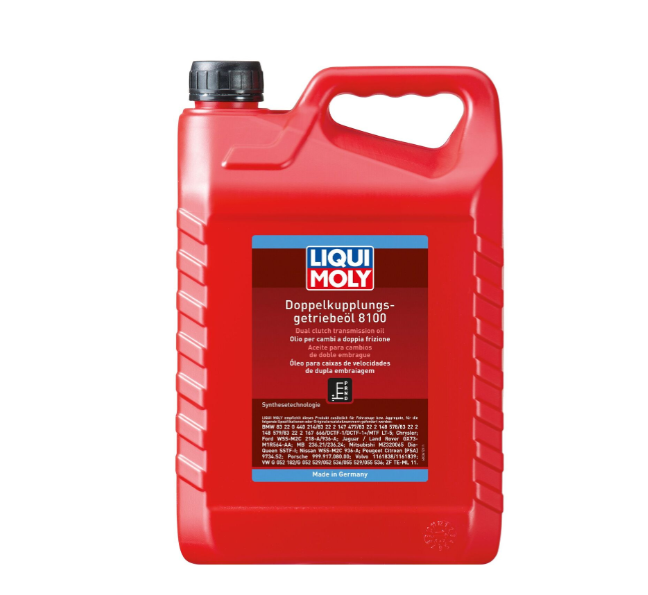 High-performance oil based on HC synthetic base oils and a powerful combination of additives. Achieves excellent clutch performance through extremely shear stable viscosity index improvers, advanced anti-wear additives and stable friction modifiers. Also suitable for dual clutch transmissions, which have a common oil supply for clutch, synchronizer, gear set and hydraulic control.
For dual clutch transmissions of all types that require a special oil, such as VW, Seat, Škoda, Audi (direct shift gearbox), Ford, Mercedes-Benz (DCT), BMW, Volvo, etc.
Application
The specifications and instructions from the assembly or vehicle manufacturer must be followed! Optimum effectiveness is only possible when the product is used unmixed.
LIQUI MOLY recommends this product for vehicles with the following specifications
BMW 83 22 0 440 214, BMW 83 22 2 147 477, BMW 83 22 2 148 578, BMW 83 22 2 148 579, BMW 83 22 2 167 666, BMW DCTF-1, BMW DCTF-1+, BMW MTF LT-5, Chrysler, Ford WSS-M2C 218-A, Ford WSS-M2C 936-A, Jaguar / Land Rover GX73-M1R564-AA, MB 236.21, MB 236.24, Mitsubishi MZ320065 Dia-Queen SSTF-I, Peugeot Citroen (PSA) 9734.S2, Porsche 999.917.080.00, Volvo 1161838, Volvo 1161839, VW G 052 182, VW G 052 529, VW G 052 536, VW G 055 529, VW G 055 536, ZF TE-ML 11