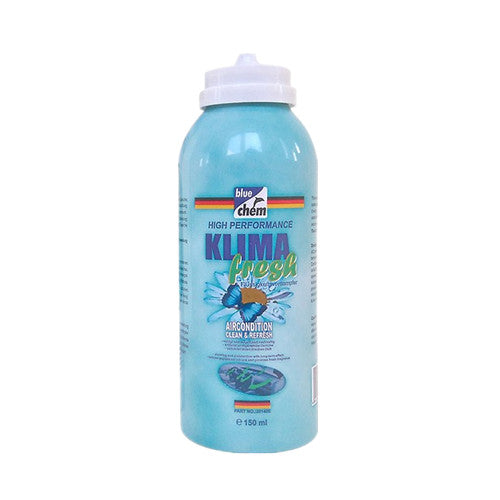 Klima Fresh ensures fresh and clean air in the vehicle interior and eliminates unpleasant odors. The air conditioning system works more efficiently and with optimal cooling performance. The product provides a pleasant and fresh odor to the entire vehicle interior, such as upholstery, carpets and roof linings.
Container size 150ml
Application scope
Klima Fresh has been especially developed for the easy, quick reliable cleaning and disinfection of A/C Systems in vehicles, commercial vehicles and buses. It can also be used in office rooms.
Application
1. Drying of condenser:
Start the engine, switch off the Air Conditioning A/C. Set the air flow to recirculation on full fan power and maximum temperature and run the system for 5-10 minutes. This procedure is very important as humidity within the A/C System can impair the cleaning effect.
2. Cleaning:
Place Klima Fresh in the footwell of the front passenger area, open all dashboard vents, switch on the A/C System and set to air recirculation on full fan power and minimum temperature. Depress the nozzle lever into lock-down position and close the doors. After only one minute the cleaning process is complete. Let the A/C System run for further 3-5 minutes and then thoroughly air the interior of the vehicle.
Working time
approx. 1 minute
Consumption
150 ml for 1 application