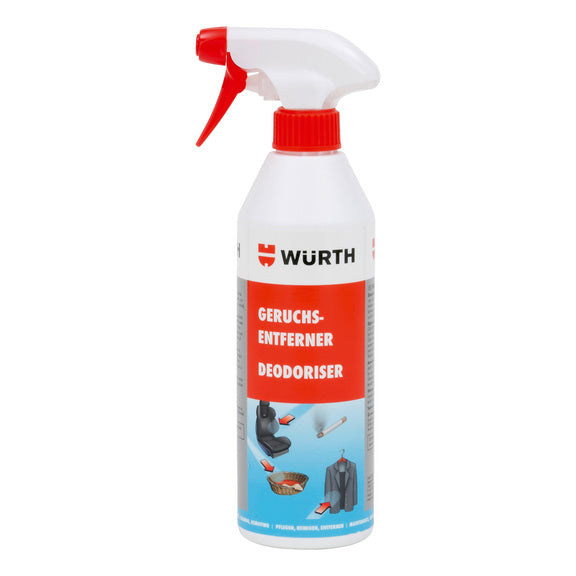 Neutralises unpleasant odours in textiles
Suitable for virtually all textiles
Does not leave behind residues
Specially selected combination of raw materials
Odour molecules are not just masked as with air fresheners, but are completely eliminated in a natural way
Fine-mist manual spray bottle
Uniform, fine and extensive moistening of the surface without wetting it through
AOX-free
Notice
Preliminary testing required for textiles sensitive to water (e.g. silk). Not suitable for leather and suede.
The usage instructions are recommendations based on the tests we have conducted and our experience; carry out your own tests before each application. Due to the large number of applications and storage and processing conditions, we do not assume any liability for a specific application result. Insofar as our free customer service provides technical information or acts as an advisory service, no responsibility is assumed by this service except where the advice or information given falls within the scope of our specified, contractually agreed service or the advisor was acting deliberately. We guarantee consistent quality of our products. We reserve the right to make technical changes and further develop products.
Application area
Neutralises all unpleasant odours, e.g. cigarette smoke, sweat, animal, mildew and kitchen odours that can occur in the vehicle interior, driver cabs, on upholstered furniture, carpets, curtains and coverings.
Instructions
1. Spray the surface to be treated from a distance of approx. 30 cm until the fabric is slightly damp.
2. The odour disappears once the fabric has dried.
3. Repeat the process if the odour is stronger.
| | |
| --- | --- |
| Contents | 500 ml |
| Container | Spray bottle |
| Smell/fragrance | Perfumed |
| Colour | Colourless |
| Chemical basis | Water, soap and glycol |
| pH value/conditions | 7 / at 20°C |
| Density/conditions | 1 g/cm³ / at 20°C |
| Shelf life from production | 24 Month |
| Bio-degradable | Yes |
| AOX-free | Yes |