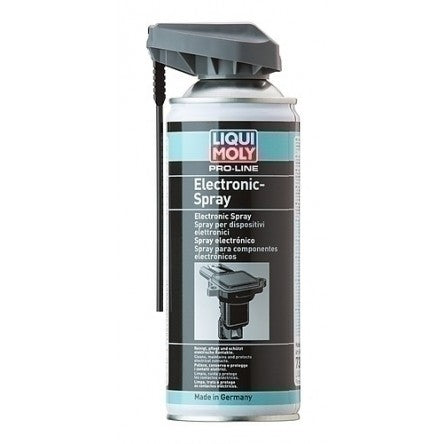 Used for maintenance and care (clean and protect) of all electrical vehicle components, such as plug and terminal connections, lamp sockets, cable distributors, switching elements, relays, distributors, breakers, starters, alternators, fuses, antennae lubrication of fine-mechanical parts.
Fully synthetic, plastic-compatible electronic spray for the cleaning and maintaining dirty electrical parts. The oxide and sulphide fittings are infiltrated, this reduces contact resistances, the electronic parts are protected and the operational safety ensured. The quick-drying formula leaves no residue and is silicone free. 
Note: Allow propellant to ventilate for approx. 10 min. Avoid sparking.
Application:Spray electronic components prior to mounting with the Electronic Spray, then mount. For heavily corroded contacts let the agent act longer, rub loose corrosion residues with a cloth or brush. Due to the folding spray pipe a precise spraying on the electronic contacts is guaranteed. If the spray tube is folded in, a flat spraying is possible. Also sprays overhead.                                     
Note: After applying the spray, leave to dry for 10 minutes before connecting the component to the power supply.